---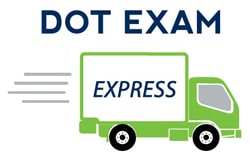 DOT Exam Express at Maryland Spine Care can perform a thorough exam and usually get you in and out in 30 minutes. We value your time! We proudly serve Baltimore, Reisterstown, Catonsville, Halethorpe, Elkridge, Landsdowne, Glen Burnie, Pasadena, Dundalk, Essex, Parkville, Towson, Timonium, Owings Mills, Finksburg, Westminster, Hampstead, Cockeysville, Sykesville, Randallstown, Woodlawn, Maryland, Arbutus, and Lansdowne.  Convenient DOT EXAM LOCATIONS in Halethorpe near I-695 & I-95 and in Reisterstown near I-795, Rte 140, & Rte 30.
---
Exámenes físicos DOT
Nuestra clínica ofrece servicios de DOT para nuestros conductores hispanos de camiones. Tenemos una traductora en español para que su examen sea fácil y rápido. El Precio Para DOT's es $75. $49.00 prueba de drogas. $49.00 prueba de alcohol. Para hacer las cosas lo más conveniente para usted, nuestros exámenes de DOT son sin cita y siempre bienvenidos.
---
Services Provided
DOT driver exams:

DOT Exam Express offers DOT exams for commercial driver's licenses and physicals for drivers who don't require a CDL but who haul enough weight (typically over 10,000 lbs gross vehicle combination weight) and require a DOT exam.

DOT drug and alcohol testing:

A basic DOT exam does not include drug and alcohol testing, but it can be performed at the same time as your regular exam if it's required by your company. Drug and alcohol testing requires a separate test and is not included in the cost of a basic DOT exam. $49.00 per test.

Work Related Injuries: DOT Exam Express can help injured workers get back to work safely & quickly through utilization of physical therapy & chiropractic care. We also work closely with a Pain Management Specialist if medication and/or injections may be needed. Whatever it takes to help you recover we are on board with a multidisciplinary approach.

Walk-ins and appointments: To make things as convenient for you as possible, our DOT exams are appointment-free, and walk-ins are always welcome. However, you can also schedule an appointment to guarantee availability at a specific time.
---
FMCSA Certified Medical Examiner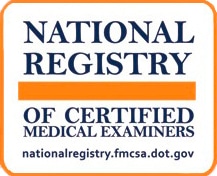 Dr. Ingram at DOT Exam Express has been a Certified Medical Examiner with the FMCSA division of the Dept of Transportation since 2014. A former Class A CDL driver himself, Dr Ingram knows the stress a DOT physical can cause a driver. He has been working with and examining drivers for years and understands how important it is that you pass your test. The doctor & staff also know how improved lifestyle choices and healthier habits can protect your livelihood, and they'll be glad to discuss these options with you during your exam.
---
What to Expect During Your DOT Exam
A DOT exam is a simple and hassle-free three-step process that involves taking your medical history, performing the exam, and filling out all the necessary paperwork.
Step One: Medical History
To provide an idea of your general health and family background, you'll be asked to fill out a brief one-page medical history detailing past illnesses, diseases that run in your family, and your overall health.
Step Two: The Exam
Once you've provided your medical history our team will review the information you've provided, go over any medical conditions you may have, and perform a basic urinalysis test. As part of the exam, he'll also:
Measure your height
Weigh you
Take your blood pressure and pulse
Test your range of motion
Examine your eyes and ears
Check your breathing
Step Three: Paperwork
The final step in the process is the paperwork. Once your medical history and exam are complete, the office will fill out all the necessary paperwork to process the exam results. When you leave the office, you'll get a copy of the exam to take with you when you get your CDL, and a second copy to give to your company. We'll also keep a scanned copy of the exam in your file at the office. And after all the paperwork has been processed, you'll get your very own DOT medical card to keep with you at all times when you're driving.
Note: If you need a copy of the DOT exam faxed to your company, please have the fax number handy.
---
Preparing for Your Physical
A DOT physical at DOT Exam Express only takes about 30 minutes. We accept cash, all major credit cards, and company checks. To prepare for the exam, compile all your medical records, put together a list of any medical conditions you've been diagnosed with, prepare a list of medications and the name of the prescribing doctor, and take note of any medical devices that you require.
On the day of the exam, you'll have to bring all of this with you. Here's a checklist of things you should bring (where applicable):
Photo identification
Medical records
List of medications, including strength and dosage, for both prescription and over-the counter drugs
Eye glasses
Hearing aids
Copy of your most recent stress test (for heart conditions)
Copy of your latest sleep test result (for sleep apnea)
Contact information, including names, phone numbers, and fax numbers for all your doctors
Right before your exam: Make sure you drink a glass of water and come in with a full bladder, as you will have to provide a urine sample.
---
Tips on Managing Your Blood Pressure
We understand that lots of people don't like doctors, hospitals, and medical exams and that anticipating your appointment may elevate your blood pressure. But we work with drivers all day, and understand how important it is for you to pass your DOT exam. To help prepare yourself for the appointment, here are things you can do in the days and weeks leading up to your exam:
Take your medication every day as prescribed and on schedule
If you forget a dose, take it as soon as possible if that's what your doctor recommends
Tell our team if you've recently missed a dose so that he can recheck your pressure later on or the following day
Reduce your caffeine, nicotine, sugar, and salt consumption
Remember that you won't actually find a single white coat in our clinic!
---
Maryland MVA Reporting
Tired of waiting in long lines at the MVA? We report your results for you to the Maryland MVA the same day.
---
Schedule or Walk-In
Feel free to drop by a DOT Exam Express any time during office hours for a walk-in DOT exam. If you're on a tight schedule and want to make sure there's a spot open, call our team in advance to book an appointment for a DOT physical, urine drug test, or breath alcohol test.
---
When Does A DOT Physical Need Renewed?
Depending on the outcome of the physical, a certification can be valid for up to 2 years. However, if the medical provider determines that the driver has existing medical conditions that need to be monitored, they may need to certify them for less than 2 years. Common reasons for giving a 1 year certification include high blood pressure, heart disease, diabetes, or sleep apnea. In less common cases you may be given 3 month certification if a medical condition needs more immediate medical attention. To avoid a 3 month certification please take your prescriptions and/ or use your CPAP/ BiPAP as recommended by your physician.
We have a Spanish translator on site for our exams

---
"Staff was very courteous. My exam was conducted a little early because I arrived early. Everyone was friendly. No crowded waiting room. My appointment exceeded my expectations."
- Marcus Curry
---
"Service was prompt, professional, the most affordable, and they even laminated my certificate card! I will be returning for my next certification renewal."
- Collin A.
---
"Fast, convenient, friendly. Check-in was a breeze, physical was quick, but thorough. And was able to be personable too."
- D.C.
---
"They are a CDL driver's friend. Exams are fast and to the point. They are inexpensive and friendly. Clean location. They even laminate your wallet card for you. There are 3 locations in the same exact block. I've been to all 3. This beats all I've ever used."
- Sean Mayo
---
"Should be the go to place for DMV exams in Baltimore City and County. In and out plus they fax Med Cert to MVA."
- William Thomas
---
"Had appointment and did not have to wait. Dr. was friendly and efficient. When finished they laminated medical card and emailed it to DMV which saved me a trip. Highly recommend."
- Anthony C.
---
"I will recommend my friends there fast and the price are reasonable and they are kind I'm going back there for my next physical."
- L.P.
---
"Professional from the moment you walk in. Clean, well maintained office and exam rooms. The office even went the 'extra mile' and submitted my paperwork to the MVA before I left their office."
- E.S.
---
"I had a great speedy experience, and everyone was nice and professional. When I got there they checked me in and I didn't wait long to be called to the back. Once I got in the back we got straight to it and the Doctor was welcoming and professional."
- Marquis W.
---
"I got a DOT physical done. All the staff are nice and pleasant from when you first walk through the door. I would recommend anyone going there."
- Richard B.
---
"Quick, thorough service - convenient, easy to find location. Saved so much time, I would absolutely recommend."
- J.S.